Vickie J. Averhoff, DVM
Dr. Vickie J. Averhoff is a native of Albuquerque and a 1993 graduate of Colorado State University (Summa cum Laude). She practiced in Las Cruces for 6 years, then moved to Oklahoma with her husband, Jeff and 2 kids, where she taught Community Practice to 4th year veterinary students for 3 years and earned her ABVP board certification in Canine and Feline Practice. She then returned home to Albuquerque, where she lives in the East Mountains and practiced at Manzano Animal Clinic for 7 years. In 2010, Dr. Averhoff purchased The Zoo Animal Hospital, renamed it Vista Larga, and has been growing the practice ever since. She has a strong interest in small animal internal medicine, cancer care, dentistry, and soft tissue surgery. Dr. Averhoff is shown here with two of her 5 dogs, 3 cats, 5 horses, 8 chickens, 3 rabbits, 4 llamas…… you get the idea…. Ellie and Penny are the party girls.
Karen M. Kline, DVM
Dr. Karen M. Kline has been practicing at our hospital since June of 2009. Dr. Kline is a 1981 graduate of The Ohio State University, (Summa Cum Laude), and her interests include ophthalmology, internal medicine, and soft tissue surgery. She regularly does volunteer work at the Zuni reservation, and worked with rescued greyhounds back in Indiana. She also has experience in emergency medicine, having helped establish an emergency clinic in South Bend, Indiana. She is very happy to be here in New Mexico, where she lives with her husband Andy, 4 cats and two dogs.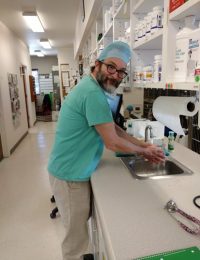 David F. Coleman, DVM
Dr. David F. Coleman is a 1995 graduate of the University of Tennessee College of Veterinary Medicine. He is an excellent veterinarian and is skilled in orthopedic surgery. Dr. Coleman shares our practice philosophy and takes wonderful care of his patients and clients. In his spare time, he enjoys hang-gliding, biking, and rock-climbing. We are very excited to have him as a member of our team.
Jamie K. Hunter, DVM
Dr. Jamie K. Hunter is a native New Mexican and a 2007 graduate of Colorado State University. She joined the Vista Larga team in 2013 after practicing 6 years in Albuquerque, where she worked with Dr. Averhoff and Dr. Coleman. She enjoys the varying caseload in general practice and has special interests in soft tissue surgery, dentistry, and preventive medicine. Outside of work Dr. Hunter enjoys traveling, hiking, yoga, and playing tennis with her husband and two daughters. Her family also includes Zia, shown here, and 3 cats.
Erin
Office Manager
Erin is our former technician, now office manager. When Susan left us in November 2020, there were some mighty big shoes to fill. Fortunately Erin has big feet! She has taken on the task with gusto, and we couldn't have made a better choice. Erin is getting the hang of ordering, running our HR and daily management tasks so well that she already asked for (and received) a raise! We look forward to Erin's steady leadership in the years to come.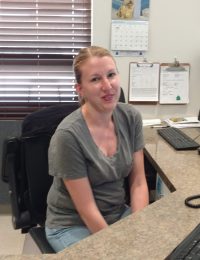 Amanda
Receptionist
Amanda is one of our full time receptionists. Amanda has lived in the East Mountains for many years and is happy to be able to take care of her friends and neighbors here at Vista Larga. She loves working with people and seeing all the animals who come in every day.
Myra
Receptionist
Myra is one of our receptionists, she joined us in April of 2012. Myra is a long time resident of Edgewood, who loves the area and its people. She will be the smiling face as you walk in the door, and the kind and helpful person you hear on the phone. She is still amazed at all the interesting things we see day to day in a veterinary practice.
Vicki
Receptionist
Vicki is one of our receptionists, she comes to us with 10 years veterinary office experience and an Associates of Science Degree in Business Administration (graduated Phi Beta Kappa). She is our tech savvy person at the front desk, she always seems to know how to make everything work, and how to do things with the computers that no one ever knew they could do! Vicki will happily help you with setting up appointments and all your front desk needs.
Emma
Receptionist
Emma is one of our fabulous receptionists. Emma joined us in November of 2020, and she is definitely a cat lover! She is originally from the big city of New York, and graduated from USC in May and is enjoying living here in the East Mountains while she spends time with her mom and learns to live in a small town and look at the stars. You will hear Emma's voice on the phone a lot for now, but hopefully in a few months you will be able to see her smiling face when our lobby opens again.
Chuck
Veterinary Technician
Chuck is a 2019 graduate of the CNM Veterinary Technology program, he is a Registered Veterinary Technician and a welcome addition to our team. Chuck is a New Mexico Native and has lived in Albuquerque his whole life. He has one dog, Bella, an 11 year old Aussie Mix. He adopted her through the Convict Rehabilitation Program. Great job Chuck!! We look forward to working with Chuck for many years to come.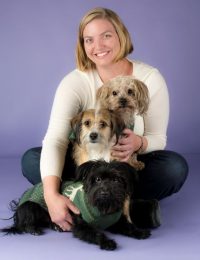 Heather
Veterinary Technician
Heather is our "Part Time" Registered Veterinary Technician, as she has a full time job teaching Vet Tech students at CNM. She has been at Vista Larga since the very beginning. She is AWESOME, and we wish we had her way more than one or two days a week!
Shelly
Veterinary Technician
Shelly is one of our veterinary technicians, and she comes with a lot of experience. Her accent will show you obviously that she is from Alamogordo, by way of Australia! Shelly loves being in the East Mountains, and loves being where she can have her tiny horses and enjoy an outdoor lifestyle.
Breanne
Veterinary Technician
Breanne is one of our technicians, though she is not an RVT she comes to us with a Biology Degree from NMSU (Dr. A is very happy about that!), and she has worked with animals for many years, both as a technician working with zoo animals and wildlife, and at a clinic on the West side of Albuquerque. Bree decided to come back home to the East Mountains, and joined us in August of 2020. She is very calm and mature, and we look forward to being able to see her face someday when Covid is over with!
Rebecca
Veterinary Technician
Rebecca is a new CNM graduate who is joining us as a full-time technician. She is still learning the ropes, but we are very happy to have her as a part of the team and look forward to seeing her learn and grow.
Amy
Technician Assistant
Amy is a wonderful technician assistant. She has lived in Edgewood for many years and New Mexico her entire life, and has considerable animal experience. She has two boys who have now grown up and left home. She loves gardening and spending time with her family. Amy started in November of 2004. She is seen here with Toe, our angel clinic cat.
Donna
Veterinary Technician
Donna is a Brand new CNM Vet tech graduate who has been working for us as an assistant while she completes her degree. Now out of school, she is ready to hit the ground running as one of our full-time vet techs. Donna is also a groomer, so we are enjoying having someone here who can give a dog a haircut that doesn't look like your mother did it. Donna is enthusiastic and we enjoy having her around!
Anthony
Technician Assistant
Anthony is one of our assistants. He lives in the area and is excited to be a member of our team. Anthony is very good with computers and technology, but he is enjoying learning how to work with animals and help with all this medical stuff! Anthony is kind and hard-working, and he makes sure that the clinic is clean and well stocked every day.